"Coven" foi feito em uma base de organdie de algodão, com camadas duplas (as vezes triplas) de ponto satin; a primeira camada de linha de poliéster na espessura 36 e a segunda em linha comum de bordado. Também contém aplicações de couro pintado a mão, bordado com fita e aplicação de miçangas. Finalmente, os corpos foram feitos em uma base de algodão peso médio e aplicados na organdie. 
"Coven" was made on a base of super light organdie, with double (and sometimes triple) layered satin stitches, with a base of thick polyester thread, and common embroidery threads on top. It also contains hand-painted leather aplique, ribbon work and beading. Last but not least, the bodies were made on a medium weight cotton base and applied to the organdie. 
"Carmen" é um projeto pessoal que foi inspirado pela minha relação com formas de artesanatos tradicionais da América do Sul, com ênfase nos objetos religiosos que minha vó coleciona por sua casa. "Coven", dentro deste contexto, explora as formas como o artesanato cria e nutre comunidades femininas de afeto.
"Carmen" is a personal project that draws on my South American craft heritage through looking at artefacts my grandma collects around her house. "Coven", within this context, explores the ways in which craft can create and nurture feminine communities of affection.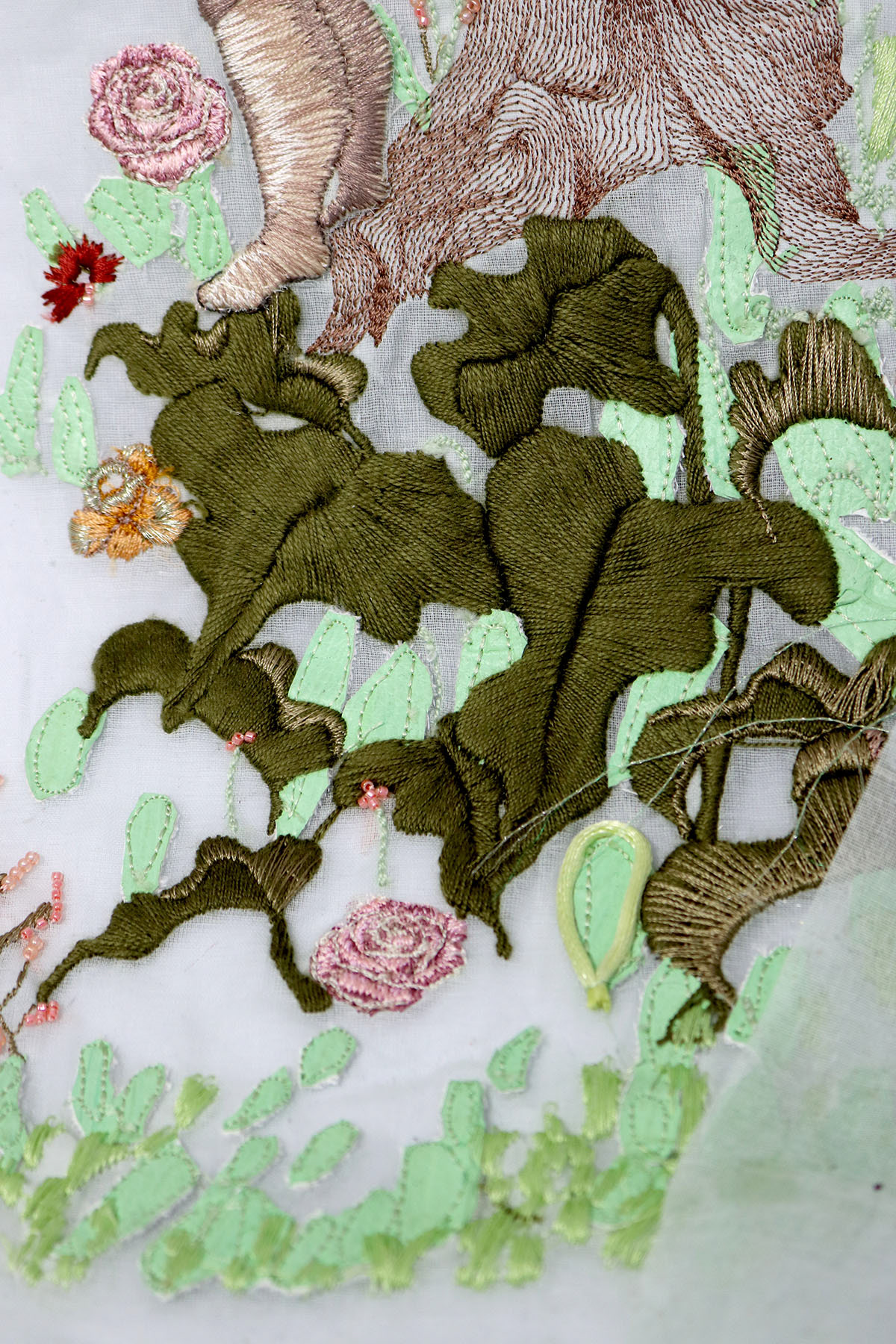 Os processos de criação de minhas amostras têxteis requerem esboços experimentais em diferentes mídias. Eu geralmente começo um projeto com rascunhos a lápis, estes são desenvolvidos em designs finais com tecnologia digital. Isso possibilita  os melhores resultados em termos de alinhamento e coloração. Durante os últimos meses do projeto 'Carmen', eu desenvolvi uma tecnologia de engenharia têxtil para bordado que se baseia principalmente em processos CAD. Essa técnica possibilita o desenvolvimento de peças que podem ser manufaturadas em grandes escalas sem perder a estética de produto de luxo. Cada design recebe acabamento individual com bordado manual e goldwork.

The processes involved in the creation of my textile designs include lots of drawing and "design planning" in different media. I usually begin with pencil sketches that are developed with digital media to achieve the best placement and color options. During the last few months of the project 'Carmen' I developed an engineered embroidery technique that relies heavily on CAD technology. It allows for extremely intricate pieces that can be produced speedily without loosing its one-of-a-kind aesthetic. Each piece is individually finished with hand craft techniques, including expert beading and goldwork.