"Reza" são duas amostras têxteis que fazem parte da história contada por "Carmen", eles usam base de crepe com fio metálico na trama, ponto satin com linha comum de bordado e com linha 36 metalizada, ponto-corrente feito com purl de metal (técnica de goldwork), e aplicações de sobra de linha em toda a peça. 
"Reza" is made up of two textile samples of the project "Carmen". These pieces utilise a crepe base with pre-woven metallic thread, satin stitched with common embroidery thread and with thick metallic thread, chain-stitch made with metal purl (gold work technique), and leftover thread applied to the whole piece.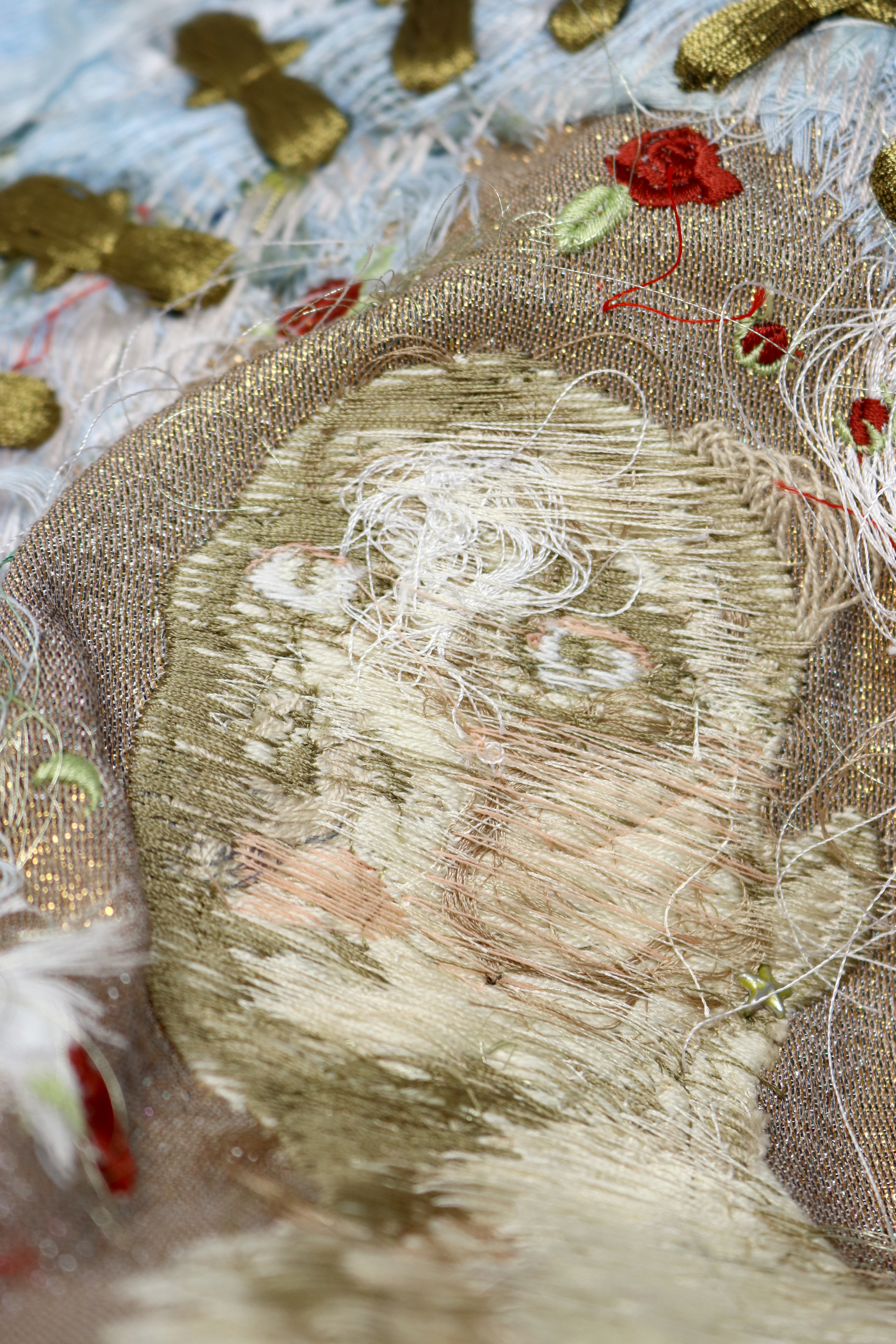 "Carmen" é um projeto pessoal que foi inspirado pela minha relação com formas de artesanatos tradicionais da América do Sul, com ênfase nos objetos religiosos que minha vó coleciona por sua casa. Seu gosto duvidoso para decoração (que inclui toalhinhas de crochê, pequenas esculturas, pinturas amadoras retratando mulheres, santos e anjos) inspirou designs que navegam a linha tênue entre o cafona e bom gosto. 
Como a maioria do artesãos, eu sou obcecada pela idéia de que um item de roupa possa demorar mais de cem horas para ficar pronta... e mesmo com esse alto nível técnico,o artesanato continua 'esquecido' nas cenas culturais. Por isso, essa coleção visa questionar as percepções mais comuns em que o artesanato é limitado ao conservadorismo amador. Com design que subverte a linguagem visual da domesticidade feminina, esse projeto traz novas ideias para a estética Latino Americana.
"Carmen" is a personal project that draws on my South American craft heritage through looking at artefacts my grandma collects around her house. Her questionable taste in décor (consisting of cross-stitched tablecloths, small sculptures; amateur paintings depicting women, saints and angels) inspired the clever play on good-taste/bad-taste that gives this textile collection its naïf vibe.
Like most craft practitioners, I am obsessed by the idea that an item of clothing can require over a hundred hours to be made. The collection questions conventional perceptions that craft is limited to domesticity and amateurism by re-introducing the subject in a subversive language.
Os processos de criação de minhas amostras têxteis requerem esboços experimentais em diferentes mídias. Eu geralmente começo um projeto com rascunhos a lápis, estes são desenvolvidos em designs finais com tecnologia digital. Isso possibilita  os melhores resultados em termos de alinhamento e coloração. Durante os últimos meses do projeto 'Carmen', eu desenvolvi uma tecnologia de engenharia têxtil para bordado que se baseia principalmente em processos CAD. Essa técnica possibilita o desenvolvimento de peças que podem ser manufaturadas em grandes escalas sem perder a estética de produto de luxo. Cada design recebe acabamento individual com bordado manual e goldwork.

The processes involved in the creation of my textile designs involve lots of drawing and "design planning" in different media. I usually begin with pencil sketches that are developed with digital media to achieve the best placement and color options. During the last few months of the project 'Carmen' I developed an engineered embroidery technique that relies heavily on CAD technology. It allows for extremely intricate pieces that can be produced speedily without loosing its one-of-a-kind aesthetic. Each piece is individually finished with hand craft techniques, including expert beading and goldwork.